Professional Profile
Professional Experience
Lynne was Vice Dean (Academic Affairs) at National University Singapore, NUS Yong Loo Lin School of Medicine from 2011 to 2014, and Assistant Dean (Academic Affairs) from 2010 to 2011. She was Vice Chairman of Medical Board (Medical Affairs-Human Resource) at National University Hospital (NUH),Singapore from 2011 to 2013.
With team at Centre for Hearing Intervention and Language Development 2012 With colleagues at NUH ENT-Head Neck Surgery Dept 2013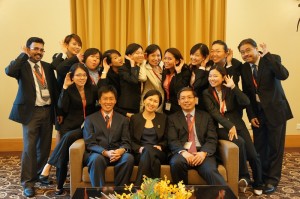 With team at Centre for Hearing Intervention and Language Development 2012
With colleagues at NUH ENT-Head Neck Surgery Dept 2013
Lynne was awarded Associate Professor with Tenure at NUS in 2008. She was very much involved in the teaching of medical students, ENT trainees and fellows. Additionally, she has been in the teaching advisory committees and a faculty for the NUS Master of Science on Speech Language Pathology, Master of Science in Audiology, Master in Clinical Investigation and Nursing Diploma programs. Recognized as one of the best ENT doctors in Singapore, Lynne is well sought after as a speaker and expert faculty, with hundreds of engagements at regional and international surgical workshops, clinical, research and public meetings.
Lynne has been Senior Consultant ENT Head and Neck Surgeon since 2004; and Director at the National University Hospital NUH Centre for Hearing Intervention & Language Development since 2006. She lists as her happiest achievement, the nurturing of a young team of 3 to its tight-knit one of 21 audiologists/ audio-technicians and speech language/ auditory verbal therapists in 2014 – delivering a full adult and pediatric service. Widely regarded as one of the top ENT doctors in Singapore, she has performed hundreds of cochlear, middle ear and bone-anchored hearing implants in adults and infants from 6 months of age. She has led many surgical workshops and complex surgeries and been on the advisory committees of airway and hearing/ cochlear implant centers in Indonesia, Malaysia, India, Vietnam, Cambodia and the Middle East.
Lynne consults in adult and pediatric cases of general ENT like ear, hearing, tinnitus, giddiness, allergic rhinitis, sinusitis, snoring, adenoid and tonsils, throat, voice, head and neck lump problems. She is further sub-specialized to manage complex cases of hearing loss (microtia, atresia and middle ear tumor and ear bone reconstruction surgery, cochlear implants, middle ear implants like Vibrant Soundbridge, BoneBridge, bone anchored hearing aids; airway reconstruction (laryngotracheal reconstruction for stridor, tracheotomy and voice problems); ENT problems in syndromic children (e.g. Down Syndrome); soft palate and pharyngeal surgery for hyper nasal unclear speech.
Pioneering Surgeries & Services
Lynne has an illustrious history of pioneering many surgeries and services. In Singapore, Lynne pioneered simultaneous anterior and posterior rib graft reconstruction for severe subglottic airway stenosis for stridor in children (2004) and sphincteroplasty for velopharyngeal insufficiency for unclear speech (2004). She set up genetic testing of congenital hearing loss service at NUH (2005), performed the first simultaneous bilateral cochlear implant surgery (2005), and also the first totally-implantable ("invisible") Carina middle ear implant surgery (2008). Lynne & her team at NUH have led the way strongly in Singapore and Asia to manage Central Auditory Processing Disorders in children since 2005.
In 2006, Lynne was the first ENT doctor in Asia to perform the Vibrant Soundbridge middle ear implant surgery in a middle age businessman. After this implant on the incus middle ear bone, she continued with such surgeries in 2007 for the implant onto the round window in a child, and in 2008 for implant onto the stapes ear bone in a teenager.
Lynne is the Founding Director of the first Singapore Master of Science in Audiology degree program which inaugurated in August 2013 at NUS. With her strong body of work in clinical, education and research fronts in hearing health, she managed to garner a significant Siemens donation that enabled the set-up, infrastructure building of special audiology and teaching rooms, manpower hire and long-term sustenance of the program at NUS and NUH. This unique collaboration between industry, hospital and medical school and audiology professionals is a significant milestone in her continual efforts to elevate the profile of Audiology and improve on the hearing health ecosystem in Singapore.