Our
Doctor
Dr Lynne Lim is one of the top ENT specialists residing in Singapore, with over 20 years of accredited ENT experience. She is currently Senior Consultant Ear Nose Throat – Head & Neck Surgeon at her private practice at Mount Elizabeth Medical Centre and Farrer Park Medical Centre. She continues as Adjunct Associate Professor to the School of Medicine at National University Singapore for research and teaching, and is Visiting Consultant to the clinical ENT Department at National University Hospital.
Lynne graduated with the Bachelor of Medicine, Bachelor of Science degree from National University of Singapore (NUS) in 1992, and was admitted as a Fellow of the Royal College of Surgeons of Edinburgh in 1996 on completion of the ENT specialty fellowship examination. In 2001, she was accredited as a Specialist in Otorhinolaryngology (ENT) by the Ministry of Health (MOH) and Singapore Medical Council.
Lynne was awarded a Healthcare Manpower Development Program (HMDP) Fellowship for ENT Surgery and National Medical Research Council Research Fellowship for research at Cincinnati Children Hospital Medical Centre, Ohio, USA. She spent 3 years between 2001 to 2003 there at CCHMC, a world-renowned American ENT Board Accredited medical and research centre, mentored by the giant of Pediatric ENT, Professor Robin Cotton and Professor John Grienwald.
Between 2002 to 2004, Lynne completed her Master of Public Health degree at the Harvard School of Public Health, USA. Her second MOH HMDP award in 2008 -2009 was for reconstruction surgery of complex microtia/ atresia/ middle ear bones pathology at leading centers of Stanford Medical Centre (USA), University of Virginia Medical Centre (USA), and Nagata Plastic and Ear Reconstruction Clinic (Japan). Read More: TQ Cover Story: Builder of Bridges
Professional Profile
Professional Experience
Lynne was Vice Dean (Academic Affairs) at National University Singapore, NUS Yong Loo Lin School of Medicine from 2011 to 2014, and Assistant Dean (Academic Affairs) from 2010 to 2011. She was Vice Chairman of Medical Board (Medical Affairs-Human Resource) at National University Hospital (NUH),Singapore from 2011 to 2013.
With team at Centre for Hearing Intervention and Language Development 2012 With colleagues at NUH ENT-Head Neck Surgery Dept 2013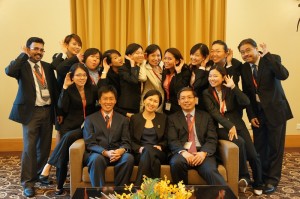 With team at Centre for Hearing Intervention and Language Development 2012
With colleagues at NUH ENT-Head Neck Surgery Dept 2013
Lynne was awarded Associate Professor with Tenure at NUS in 2008. She was very much involved in the teaching of medical students, ENT trainees and fellows. Additionally, she has been in the teaching advisory committees and a faculty for the NUS Master of Science on Speech Language Pathology, Master of Science in Audiology, Master in Clinical Investigation and Nursing Diploma programs. Recognized as one of the best ENT doctors in Singapore, Lynne is well sought after as a speaker and expert faculty, with hundreds of engagements at regional and international surgical workshops, clinical, research and public meetings.
Lynne has been Senior Consultant ENT Head and Neck Surgeon since 2004; and Director at the National University Hospital NUH Centre for Hearing Intervention & Language Development since 2006. She lists as her happiest achievement, the nurturing of a young team of 3 to its tight-knit one of 21 audiologists/ audio-technicians and speech language/ auditory verbal therapists in 2014 – delivering a full adult and pediatric service. Widely regarded as one of the top ENT doctors in Singapore, she has performed hundreds of cochlear, middle ear and bone-anchored hearing implants in adults and infants from 6 months of age. She has led many surgical workshops and complex surgeries and been on the advisory committees of airway and hearing/ cochlear implant centers in Indonesia, Malaysia, India, Vietnam, Cambodia and the Middle East.
Lynne consults in adult and pediatric cases of general ENT like ear, hearing, tinnitus, giddiness, allergic rhinitis, sinusitis, snoring, adenoid and tonsils, throat, voice, head and neck lump problems. She is further sub-specialized to manage complex cases of hearing loss (microtia, atresia and middle ear tumor and ear bone reconstruction surgery, cochlear implants, middle ear implants like Vibrant Soundbridge, BoneBridge, bone anchored hearing aids; airway reconstruction (laryngotracheal reconstruction for stridor, tracheotomy and voice problems); ENT problems in syndromic children (e.g. Down Syndrome); soft palate and pharyngeal surgery for hyper nasal unclear speech.
Pioneering Surgeries & Services
Lynne has an illustrious history of pioneering many surgeries and services. In Singapore, Lynne pioneered simultaneous anterior and posterior rib graft reconstruction for severe subglottic airway stenosis for stridor in children (2004) and sphincteroplasty for velopharyngeal insufficiency for unclear speech (2004). She set up genetic testing of congenital hearing loss service at NUH (2005), performed the first simultaneous bilateral cochlear implant surgery (2005), and also the first totally-implantable ("invisible") Carina middle ear implant surgery (2008). Lynne & her team at NUH have led the way strongly in Singapore and Asia to manage Central Auditory Processing Disorders in children since 2005.
In 2006, Lynne was the first ENT doctor in Asia to perform the Vibrant Soundbridge middle ear implant surgery in a middle age businessman. After this implant on the incus middle ear bone, she continued with such surgeries in 2007 for the implant onto the round window in a child, and in 2008 for implant onto the stapes ear bone in a teenager.
Lynne is the Founding Director of the first Singapore Master of Science in Audiology degree program which inaugurated in August 2013 at NUS. With her strong body of work in clinical, education and research fronts in hearing health, she managed to garner a significant Siemens donation that enabled the set-up, infrastructure building of special audiology and teaching rooms, manpower hire and long-term sustenance of the program at NUS and NUH. This unique collaboration between industry, hospital and medical school and audiology professionals is a significant milestone in her continual efforts to elevate the profile of Audiology and improve on the hearing health ecosystem in Singapore.
Academic & Service Profile
Innovation & Research
Lynne's research focuses recently have been in hearing loss, novel biomedical devices, trachea airways, allergic rhinitis and health service delivery and public health. She completed a study on telephone administered hearing screening tests for the public in 2014, and started the minivan model of mobile hearing service for elderly in the Singapore community in 2015. Currently, she is continuing with research with NUS and NTU colleagues, for a hand-held device to insert grommet tubes for glue ears in the clinic without general anesthesia, and also for bioabsorbable grommet tubes that self-destruct after their use is over.
Lynne has published consistently in peer-reviewed scientific journals, and is often invited to share her work at regional and international research conferences. She has worked with Health Promotion Board MOH as lead for the Clinical Practice Guidelines for Rhinosinusitis and Functional Screening for Hearing Loss in the Elderly, and also for expert resource in the Hearing Loss section for the National Health Survey 2010. She continues to be a resource for MoH on hearing loss and cochlear implant initiatives. In September 2016, Lynne led the hearing health section in the Traffic Police, Singapore's initiative to increase public awareness on the dangers of untreated hearing loss resulting in increased accidents when using the roads.
Examples of competitive research grants as primary investigator:
Economic Development Board Singapore, Biomedical Sciences POC (Proof of Concept) Grant, $200 000, Oct 2007 – Sept 2008. Development of and Determination of the Efficacy and Safety of a Novel Drug-Eluting Absorbable Stent for Trachea Stenosis.
Biomedical Research Council Singapore /ASTAR Award S$197,000 (2005-2009). Genotypic & Phenotypic Correlations of Hereditary Non-Syndr, mic Hearing Loss in Singapore: Connexin 26, Connexin 30, Pendrin & A1555G mutations.
NUS Office of Life Science Grant Start Up Award (2005 – 2008). The Role of Microbes in Non-Allergic Rhinitis and Otitis Media with Effusion in Children. Collaboration with Karonlinska University, Sweden. SGD 100,000.
National Research Foundation Collaborative Research Project CRP 8 million SGD Grant – SGD200, 000. Novel Drug Eluting Bioabsorbable Stent for Trachea Stenosis. (Jan 2010-Mar 2012).
National Research Foundation, Proof of Concept Grant, June 2010 –30 Nov 2011. Primary Investigator. Development of a novel bioabsorbable ventilation tube for chonic middle ear infection. SGD200,000.
Health Service Research CRG, Health Service Development Program Grant, MOH.. Primary Investigator. An Automated Telephone-Administered Hearing Test for Mass Screening of Hearing Loss in Singapore. SGD 973,632,000 .
Biomedical Engineering Programme (BEP) POC Grant, ASTAR. SERC grant # 103 1490002. Clinical PI. Office-based Ventilation Tube Applicator for Patients with Otitis Media with Effusion SGD 497,365.
Singapore MIT Alliance for Research and Technology SMART Innovation Grant – 1 Dec 2012 –July 2015. A novel biodegradable ventilation tube with sustained drug-eluting property for treatment of middle ear effusion. $250,000
BEP-ASTAR POV Grant, SERC . Office-based ventilation tube applicator for patients with otitis media with effusion. Ventilation Tube Application for Patients with Otitis Media with Effusion.1 Sept 2013 – 31 Aug 2015, $1,683,044.
MoH Health Service Development Programme HSDP Fund. Community based mobile hearing van service to improve hearing service., June 2014 – May 2016, SGD 4,870,826,
Patents
Venkatraman SS, Ng AHC, Boey FYC, Lim LHY. A Bioabsorbable Tracheal Stent, And Method of Manufacturing Thereof. Filed 21 March 2012. A Biodegradable Tracheal Stent and Method of Manufacturing Thereof. US Provisional Patent #61/454,858.
New Invention Disclosure: Title: Apparatus for Office-based Grommet Tube Insertion; Granted for Singapore SRC/P/07416/02/SG. Granted for China SRC/P/07416/04/CN. Filed for US SRC/P/07416/03/US. Filed for Europe SRC/P/07416/05/EP.
Lynne HY Lim, Gan CW, Chooi WH, Venkatraman SS, Ng AHC, Wong YS. Bio-absorbable Medicament-Eluting Ventilation Tube. Filed 30 Sep 2013 – PCT/SG2013/00042
Research Publications
1. Lynne Lim HY. A Decade of Restructuring in the Singapore General Hospital – A Critique. Merit Award for the Essay Competition at the 10th Annual Scientific Meeting. SGH Proceedings, Volume 8, No.2, 1999.
2. Lynne Lim HY, Fei Xun, Low WK, Joseph Wee, Robert Ng TH, Song IC. Tissue culture and transplantation of salivary acinar cells in an animal model -preliminary report. Department of Clinical Research Annual Report 1999, p 45.
3. Lynne Lim HY, Goh YH, Vincent Chong, Chan YM, Low WK. Malignancy of the Temporal Bone and External Auditory Canal. Otolaryngol Head Neck Surg 2000 Jun; 122 (6): 882 – 6.
4. Lynne Lim HY. Why I Choose to Work In This Medical Campus. First Prize Essay Award at SGH Scientific Meeting 2000. SGH Proceedings, Volume 9, No. 2, 2000.
5.Lynne Lim HY, Christopher Goh HK. Renal Cell Carcinoma Metastasis to the Sinonasal Area. ENT Journal 2001 July; 80 (7): 462-467.
6. Lynne Lim HY, Soo KC, Chong YK, Gao F, Hong GS, Lim TH. Well -differentiated Thyroid Carcinoma – Factors predicting recurrence and survival. Singapore Med J 2002; 43(8): 399-402.
7. Lynne HY Lim, JH Greinwald, Jr. Current status of genetics in the evaluation and management of sensorineural hearing loss. Curr Opin Otolaryngol Head Neck Surg 2002, 10:435–439
8. Lynne HY Lim, JK Bradshaw, YS Guo, V Pilipenko, C Madden, D Ingala, M Keddache, DI Choo, R Wenstrup, RJH Smith, JH Greinwald, Jr. Genotypic and Phenotypic Heterogeneity of DFNB1-related Hearing Impairment in the Midwestern United States. Archives of Otolaryngology, Head and Neck Surgery 2003; 129(8):836-840.
9. Lynne Lim HY, Chao SS, Goh HK, Ng CY, Goh YH, Khin LW. Parotid gland excision – 4 year review of 118 patients. Head and Neck Journal 2003; 25(7): 543-548.
10.Lynne Lim HY, LE Loong, Goh HK, A Balakrishnan, J Wee. Nasopharyngeal Carcinoma in Children. International Journal of Clinical Practice 2003; 57(10): 871-4.
11. Lim CH, Goh YH, Chao SS, Lynne Lim HY. Pseudocyst of the auricle. Laryngoscope 2002; 112: 2033-2036.
12. Greinwald JH, Bradshaw JK, Lim LHY et al. Mutations in the GJB2 gene among Bangladeshi with non-syndromic hearing impairment. American Journal of Human Genetics 71(4); 2121 Suppl. S Oct 2002.
13.Lynne Lim, C Hartnick, JP Willging. Rare Case of Combined Type I and II First Branchial Sinus. J of Pediatr Surg Oct 2003, 38(10): E12-E13.
14.Lynne H. Y. Lim , Manoj Kumar and Charles M. Myer, III Head and neck trauma in hospitalized pediatric patients. Otolaryngology – Head and Neck Surgery, 130 (2), Feb 2004, Pages 255-261.
15. Guo Y, Pilipenko V, Lim LH (Lynne Lim), Dou H, Johnson L, Srisailapathy CR, Ramesh A, Choo DI, Smith RJ, Greinwald JH. Refining the DFNB17 interval in consanguineous Indian families. Mol Biol Rep. 2004 Jun; 31(2):97-105.
16. Lim CH, Goh YH, Chao SS, Lynne Lim HY. Pseudocyst of the auricle: a histologic perspective. Laryngoscope. 2004 Jul; 114(7):1281-4.
17. Lynne HY Lim, Azizkhan RG, Cotton RT , Wood RE, Cohen AP, MJ Rutter. Complications of metallic stents in the pediatric airway. Otolaryngol Head Neck Surgery 2004; 131: 355-61.
18. Preciado DA, Lynne HY Lim, Cohen AP, Madden C, Myer D, Ngo C, Bradshaw JK, Lawson L, Choo DI, Greinwald JH. A diagnostic paradigm for childhood idiopathic sensorineural hearing loss. Otolaryngol Head Neck Surg 2004; 131: 804-9.
20.Lynne Lim, Dou HW, Ali M, Pilipenko V, Bradshaw J, Lin X, Greinwald JHG. Is the GJB2 mutation, V27I/E114G, related to hearing loss? The proceedings of the 28th annual midwinter Research meeting of the Association for Research in Otolaryngology. February 2005.
21. SP Eng, CHK Goh, JBK Khoo, TL Yang, LHY Lim. Metastatic Angiosarcoma to the thyroid. Rev Laryngol Otol Rhinol 2005; 126: 111-4.
22. Lynne HY Lim et al, Jan 2003, The Connexin-deafness Homepage (http://crg.es/deafness/). Non-syndromic deafness mutation in connexins: GJB2 (Cx26). Reported new mutation: L90V GJB2 mutation.
23.Azizkhan RG, Rutter MJ, Cotton RT, Lim LH, Cohen AP, Mason JL. Lymphatic malformation of the tongue base. Jour of Pediatr Surg 2006, 41(7):1279-1284. 23.Lynne HY Lim et al, Jul 2007. The Connexin-deafness Homepage (http://crg.es/deafness/). Non-syndromic deafness mutation in connexins: GJB2 (Cx26). Reported new mutations: I30V, G4D GJB2 mutations.
25.RS Rana, B Tang; L Zhang ; H Garg; DY Wang ; Lynne HY Lim. Reverberation Canceling Wireless Aid for Hearing Impaired. Analog Integrated Circuits and Signal Processing, 2007; 51(3):155-167.
26.Pediatric Hearing Impairment Caregiver Experience: Impact of Duration of Hearing Loss on Parental Stress. Meinzen-Derr J, Lim LH (co-first author), Choo DI, Buyniski S, Wiley S. Int J Pediatr Otorhinolaryngol, 2008 Nov: 72(11):1693-1703.
27.Lynne Lim. A Multidisciplinary Approach to The Management of Congenital Hearing Loss – Program at the Centre for Hearing Intervention and Language Development, National University Hospital Singapore. Annals Academy of Medicine Singapore. Annals Academy of Medicine Singapore; Dec 2008, Suppl 3; 37(12): 57-9.
28.Lynne Lim, Soma Sundram, Xu LiQing. Genotypic and Phenotypic Correlations of Enlarged Vestibular Aqueduct in Children. To Otology Neurotology.
29. Management of Rhinosinusitis and Allergic Rhinitis Clinical Practice Guidelines Dec 2009, Ministry of Health: Section on PEDIATRIC RHINOSINUSITIS.
30. Functional Screening for Elderly Singaporeans – Clinical Practice Guidelines Jan 2010, MOH: Section on HEARING LOSS
31. National Health Survey 2010, Singapore, MOH initiative. Section on Hearing Loss. Published Oct 2011. Epidemiology and Diseases Unit, MoH. Providing training on hearing loss assessment and technical advice on hearing loss definitions, reviewing the chapter on hearing loss and other input.
32. Lynne Hsueh Yee Lim, Jocelynne del Prado,Ling Xiang, Abdul Rahman Bin Yusof , Jenny Hooi Yin Loo. Vibrant Soundbridge middle ear implantations: experience at National University Hospital Singapore. European Archives of Oto-Rhino-Laryngology and Head & Neck, 2012 Sep; 269(9):2137-43.
33. Siow JK, Alshaikh NA, Balakrishnan A, Chan KO, Chao SS, Goh LG, Hwang SY, Lee CY, Leong JL, Lim LHY, Menon A, Sethi A, Tan H, Wang DY, Singapore Ministry of Health. Ministry of Health clinical practice guidelines: Management of Rhinosinusitis and Allergic Rhinitis. Singapore Medical Journal 2010, Mar; 51(3):190-197.
34. Thilagaratnam S, Ding YY, Au Eong KG, Chiam PC, Chow YL, Khoo G, Lim HB, Lim HYL, Lim WS, Lim WY, Peh KC, Phua KT, Sitoh YY, Tan BY, Wong SF, Wong WP, Yee R. Health Promotion Board-Ministry of Health Clinical Practice Guidelines: Functional Screening for Older Adults in the Community. Singapore Medical Journal Jun 2010; 51(6):518-522.
35.Lynne Lim Hsueh Yee, Amilia Wee Li Yan, Ragnar Rylander. Otitis, rhinitis and atopy in relation to domestic endotoxin and beta-glucan exposure among children in Singapore. Environmental Health and Preventive Medicine, Sept 2010; 15(5), 271-275.
36.Idris Nurliza, Lim LHY. Discoloration leading to black eschar over the nose: Invasive Fungal Sinusitis. Journal Pediatric Child Health. 2010 Dec; 46(12):779, 789
37. Lynne Lim HY. The College of Family Physician's Journal Publication – The Singapore Family Physician for the March skills course. Hearing Section. March 2011.Community Functional Screening Follow Up Resource for Primary Care Doctors March 2011. Chapter 4: hearing. P23-26. SFP2011; Mar 37(2) Supplement.
38. G. H. Zhu, Anthony H. C. Ng, Subbu S. Venkatraman, Freddy Y. C. Boey, Amilia L. Y. Wee, Scott L. Trasti, Lynne H. Y. Lim. A Novel Bioabsorbable Drug-Eluting Tracheal Stent. Laryngoscope 2011, 121, 2234–2239.
39. Nurliza Idris, Lynne Lim HY. Retrospective Review of Grommet Insertions For Otitis Media With Effusion In Children in Singapore. Medical Journal of Malaysia 2011 Aug; 66(3):227-30.
40. Lynne Hsueh Yee LIM, Ling XIANG, J del PRADO, Millo Achille BELTRAME. Simultaneous Vibrant Soundbridge Implantation & 2nd Stage Auricular Reconstruction for Microtia with Aural Atresia. Audiology Research 2011; 1:e28, 9-12.
41.Lynne Lim HY. National Health Survey 2010, Singapore, MOH initiative. Section on Hearing Loss. Published Oct 2011. Epidemiology and Diseases Unit, MoH.
42. Lynne Hsueh Yee Lim, Jocelynne del Prado,Ling Xiang, Abdul Rahman Bin Yusof , Jenny Hooi Yin Loo. Vibrant Soundbridge middle ear implantations: experience at National University Hospital Singapore Ms. No. EAORL-D-11-00934R1. European Archives of Oto-Rhino-Laryngology and Head & Neck, 2012 Sep;269(9):2137-43.
43. Lynne Lim, Somasundaram Subramaniam, Xu LiQing, Chiea-Chuen Khor, Denise Goh, and Yeh Ing Berne. Clinical, Audiometric, Radiologic, and Genetic Profiles of Southeast Asian Children With Hearing Loss Due to Enlarged Vestibular Aqueduct. Otology & Neurotology 2011, 32:1464-1467.
45. Nurliza Idris, Lynne Lim HY. Nasal eschar- a warning sign of potentially fatal invasive fungal sinusitis in immunocompromised children. Journal of Pediatric Hematology Oncology. 2012 May; 34(4):e134-6.
44. Ng AH, Ng NS, Zhu GH, Lim LHY, Venkatraman SS.A fully-degradable tracheal stent: in vitro and in vivo characterization of material degradation. J Biomed Mater Res B Appl Biomater. 2012 Apr;100(3):693-9
45. Er Poi Voon, Tan Kok Kiong, Arun S. Narayanan, Clarence W. de Silva, Lim Hsueh Yee Lynne. Control and Intelligent Systems, Vol. 41, No. 3, 2013, 1. Development of digital Pseudo binaural hearing aid.
46. Techinical: **Tan KK, Liang WY, Phan LP, Huang SN; Clinical: **Lim HYL, Gan CW. 2012. Control Of A 2-DOF Ultrasonic Piezomotor Stage For Grommet Insertion. Mechatronics. Dec 2013, 23(8):1005-1013. (** Joint 1st authors)
47. Gan, CW, WH Chooi, HC Ng, YS Wong, SS Venkatraman and LHY Lim, "Development of a Novel Biodegradable Drug-Eluting Ventilation Tube for Chronic Otitis Media with Effusion". Laryngoscope, (2013).
48.Jenica Yong, Loh Woei Shyang, Lynne Lim. Annals of Pediatric SURGERY-D-13-00054, entitled "Work Type II First Branchial Cleft Cyst – A Rare Anomaly with a Classical Presentation. March 2014
49. * Kok Kiong Tan ; Wenyu Liang ; Le Phuong Pham ; * Hsueh Yee Lim ; Chee Wee Gan. *1st authors. Publication IEEE, IEEE/ASME International Conference on Advanced Intelligent Mechatronics (AIM), 2013: 1448 – 1453.
50. Wenchao Gao ; Kok Kiong Tan ; Wenyu Liang ; Chee Wee Gan ; Hsueh Yee Lim. Stereo vision based intelligent system for middle ear treatment . Publication IEEE, IEEE International Conference on Robotics and Biomimetics (ROBIO), 2013: 1426 – 1431.
51. Wenchao Gao ; Kok Kiong Tan ; Wenyu Liang ; Chee Wee Gan ; Hsueh Yee Lim. . IEEE 23rd International Symposium on Industrial Electronics (ISIE), 2014: 1544 – 1549.
52.Lynne HY Lim, Ling Xiang, Naomi YM Lee, Kelvin CP Yuen, Rui Jie Li.Validation of the Paediatric Hearing Impairment Caregiver Experience Questionnaire in the Singapore Population. Ann Acad Med Singapore 2014; Vol. 43 No. 7 July 2014
53.Hear here: Children with hearing loss learn words by listening. Joyce Lew; Alison A Purcell; Maree Doble; Lynne H Lim. International Journal of Paediatric Otorhinolaryngology 78 (2014) 1716–1725
54. Tan KK, Liang W, Huang S, Pham LP, Chen S, Gan CW, Lim LHY. (Feb 2015). Precision Control of Piezoelectric Ultrasonic Motor for Myringotomy with Tube Insertion. Journal of Dynamic Systems, Measurement, and Control (JIF 1.039). 137(6):064504.
55. Kamaldin N, Liang W, Tan KK, Gan CW, Lim LHY. (July 2015). Capacitive-Based Contact Sensing for Office-based Ventilation Tube Applicator for Otitis Media with Effusion Treatment. IEEE Sensors Journal (JIF 1.762). 15(7):3926-3933.
56. Gao W, Tan KK, Liang W, Gan CW, Lim HY. (Mar 2016). Intelligent Vision Guide for Automatic Ventilation Grommet Insertion into the Tympanic Membrane. International Journal of Medical Robotics and Computer Assisted Surgery:12(1): 18-31 (JIF 1.94)
57. Yeoh WK, Lee JKW, Lim HY, Gan CW, Liang W, Tan KK. April 2017. Revisiting the tympanic membrane vicinity as core body temperature measurement site. PLoS ONE. 12(4) (JIF 3.39)
Education & Mentorship
Lynne has enjoyed teaching widely over the years, for Medical students, ENT trainees, ENT fellows, nurses, Master of Public Health, Master of Clinical Investigation, Change workshop, Mater of Audiology, Master of Speech Language Pathology, School of Design students
Examiner for ENT Basic and Advanced Trainees examinations and specialty accreditation
Founding Training Advisory Committee for the MSc in Speech and Language Pathology, and MSc in Audiology
Residency Advisory Committee Otolaryngology, MOH, 2010 – 2014
Workgroup for Joint Examinations with American Board of Medical Specialties (ABMS), Ministry of Health (MOH), 2011-2013
Published book chapters on 1. Airway Obstruction, 2. Hearing Loss and 3. Speech and Resonance Disorders in "Ear Nose and Throat Disorders for the General Practitioner"
Published book chapter on Common ENT Conditions in "Paediatrics On-The-Go"
As Expert Panel Resource Person
CPG Functional Screening Hearing Loss Older Adult
Itinerant Support Service (ISS) National Workgroup Singapore (2004 – 2006)
MoH Review of National Health Service Development Program funding for cochlear implant subsidy (2004 – 2005)
Board for Appeal of the Foreign Domestic Worker Levy Concession for Persons with Disabilities. National Council of Social Service, Singapore, 2007 – 2010
Cost-effectiveness evaluation of pneumococcal vaccine. Healthcare Performance Group, Clinical Quality Improvement Division, MOH
Determination of the minimum standards required for the provision of paediatric ENT services. Workgroup for MoH, Health Services Management. 2008
Rhinosinusitis Clinical Practice Guidelines Workgroup 2008, MOH
Interventions for the Elderly: Screening for Hearing Loss in the Elderly. Clinical Practice Guidelines Workgroup 2008, MOH
Workgroup for Practice guidelines for the Psycho-educational assessments and placements of children with learning and special needs (6-18 years old) 2010, MOH
Community Functional Screening Programme Training Manual and Follow up Resource for Primary Care Doctors. Lead for Hearing Health section. 2010 – 2011, Health Promotion Board, MOH
Environmental Resources Management Consultancy Study on Noise Impact from Air Traffic Operation around Airports and Airbases in Singapore. 2010, National Environmental Agency
Government Subsidies Required For Hearing Aids. 2013, MOH.
Functional Screening Technical Workgroup Committee, Health Promotion Board. 2014 – ongoing, MOH
Private Profile
Lynne is married to a lawyer, Joos and has a teenage daughter, Natania. Away from work, she enjoys the creative side of things, good writing and travel to quieter spots. Her dream remains to find a nice place somewhere to build a hundred magical tree houses – uber designs, quirky nooks and cool materials all.
Joos back in his home in Penang with Natania, 2006